United Way honors Vaccine Corps with Community Citizen of the Year Award
The UMass Chan Medical School Vaccine Corps was recognized on May 5 during the 102nd Annual Meeting and Community Celebration of the United Way of Central Massachusetts. More than 1,700 Vaccine Corps volunteers administered 83,000 COVID-19 shots at the large-scale vaccination site at Worcester State University before it closed in June.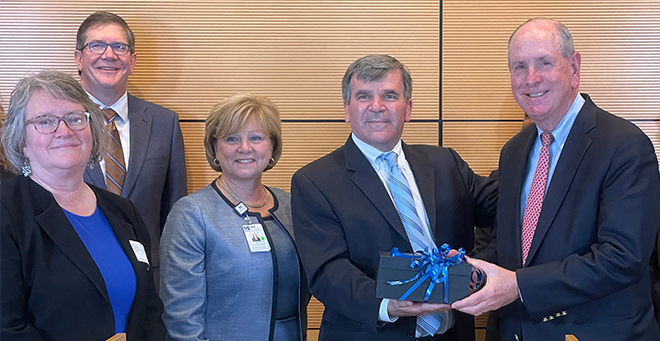 In a video shown during Thursday's virtual event, Timothy Garvin, president and chief executive officer of the United Way of Central Massachusetts, presented UMass Chan and its collaborators with the Community Citizen of the Year Award. The award honors the memory of Edwin B. "Ted" Coghlin Jr., who was involved in multiple civic and youth organizations. Daughter Susan Coghlin Mailman, MBA, was in attendance for the award presentation.
"We at the United Way want to honor Ted Coghlin and we want to honor everybody who was involved in our efforts to make sure that everybody who wished to would receive a vaccine," Garvin said.
UMass Chan students, faculty and staff volunteered as vaccinators and provided on-site support. Commonwealth Medicine, the public service consulting and operations division of UMass Chan Medical School, set up the IT platform for the Vaccine Corps and managed logistics and staffing at the large-scale vaccination site. UMass Chan Chancellor Michael F. Collins acknowledged the work of Lisa M. Colombo, DNP, MHA, RN, executive vice chancellor for Commonwealth Medicine, and her team in his remarks.
"Sixteen months ago, the landscape of our nation and, indeed, of the world, was quite different," Chancellor Collins said. "With COVID-19 vaccines just becoming available, it seemed evident that it would, in fact, take a massive community effort to meet the essential and urgent need to vaccinate as many people as possible, as quickly as possible. While the idea seemed simple, the work required to bring it to life was not. Fortunately, as is the 'Worcester way,' like-minded people and organizations came together in unprecedented ways and rose, together, to meet an unprecedented challenge."
Garvin said that UMass Memorial Health, Saint Vincent Hospital, the City of Worcester's Department of Health and Human Services and Public Health Division, Worcester State University and its Latino Education Institute and Charles F. "Chip" Norton, president and owner of Franklin Realty Advisors, share the award with UMass Chan for their roles in the vaccination effort.
Related UMass Chan news stories:
Ceremony recognizes volunteers as Worcester's large-scale vaccination site closes its doors
UMass Medical School announces partnership in large-scale COVID-19 vaccination site in Worcester